We are a group of Vintage Lamborghini Owners here to discuss our cars, which include the front-engined V-12s such as the 350GT, 400GT, Islero, Espada and Jarama plus the mid-engined Miura, Urraco, Countach, Jalpa, Silhouette and Diablo. Be sure to visit the Store and purchase our decals, pins, patches and pens to promote this great forum! Profits from these items go towards annual fees to the service provider.
This group was founded in 2002 by my late friend Fred Paroutaud and me. Over the years, our group has grown to over 1,000 members, many with considerable knowledge about vintage Lamborghinis, making our forum one of the most sought after sources when it comes time to preserve, restore or simply enjoy these unique automobiles.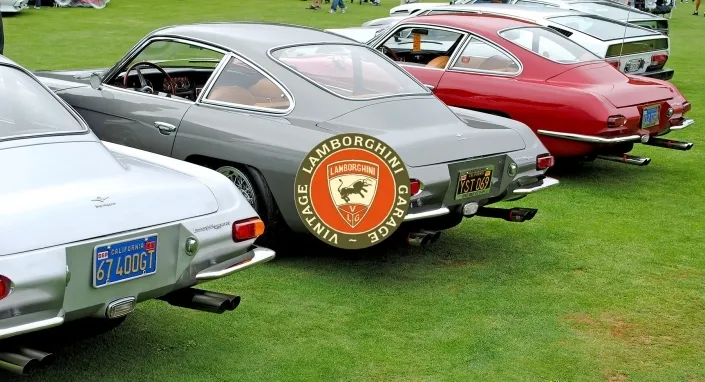 Our primary goal remains the same as when Fred and I started: To provide a convivial, flame- free environment, where disagreement is fine, but not when it contains disrespectful or discourteous content. The idea is to encourage lively discussion of our favorite vintage Lamborghinis in a pleasant environment. Facts are great, but opinions are OK too. Just keep it civil. That is rule one.
Here's to our site. We hope you will enjoy it.
Questions or comments, please use the contact form in the About Us menu to email us.
Jack Riddell (Founder/Moderator)  e-mail  lambojack@cox.net
Bob Staaterman (Moderator)  e-mail  staats@optonline.net
Derek McCallister (Owner/Moderator) e-mail derek@vintagelamborghini.com
Thanks, and enjoy!
To register for the VLG Forum, please select "FORUM" from the menu above and click on create an account.
A few notes before you get started:
-- No, We will not longer suport the Yahoo group. Yahoo has pretty much discontinued the free groups.
-- Yes, this VLG chat forum will be free; however, we encourage donations to help cover the cost for hosting the site.
-- No, this new forum does not have the "post via email" feature that the old Yahoo VLG group has.  But, you can subscribe to a thread and get email notifications of new posts in your email in-box.
-- Avatars are encouraged.  This site is happy accommodating avatars of up to 300 x 300 pixels. If you have problems with this, email your avatar photo to me and I will do it for you: lambojack@cox.net
-- This VLG forum will be monitored for thread relevance, so expect to see threads moved from time to time.
Let's get rolling with this VLG Forum!
Jack Riddell (Founder/Moderator) E-mail lambojack@cox.net
Bob Staaterman (Moderator) E-mail staats@optonline.net